Online Safety at Langley First School
Being online is an integral part of children and young people's lives. Social media, online games, websites and apps can be accessed through mobile phones, computers, laptops and tablets – all of which form a part of children and young people's online world.
Whilst the internet and online technology provides new opportunities for young people's learning,  it can also expose them to new types of risks.
It is intended that the following information will help to develop, extend and raise your awareness as either a parent, grandparent or child as to how  online safety is everyone's responsibility.
---
Designated Safeguarding Lead: Mrs Marron - Head Teacher
Deputy Designated Safeguarding Lead: Mrs Towers - Pastoral Support
Computing Lead: Ms Cummings - Teacher
---
Through our website, we aim to provide useful advice and information to make the world of computing, information and coding a safer place to be for you and your children. Please keep revisiting this section of our website for up to date guidance.
What is online safety?
In simple terms, online safety refers to the act of staying safe online. It is also commonly known as internet safety, e-safety and cyber safety. It encompasses all technological devices which have access to the internet from PCs and laptops to smartphones and tablets.
Being safe online means protecting yourselves and children from online harms and risks which may jeopardise personal information, lead to unsafe communications or even affect mental health and wellbeing.
At Langley First School we foster an open environment in which children and young people are encouraged to ask any questions and participate in an ongoing conversation about the benefits and dangers of the online world. As a school, we are aware that children and staff cannot be completely prevented from being exposed to risks both on and offline. Children should be empowered and educated so that they are equipped with the skills to make safe and responsible decisions as well as to feel able to report any concerns in a timely manner. E-safety is a whole school and community issue.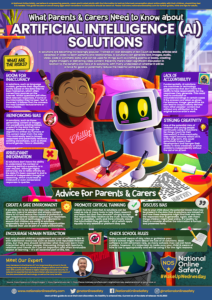 The rise of programmes like ChatGPT has brought the use of artificial intelligence solutions into sharp focus. Designed to potentially make our lives easier and support everyday tasks, this advanced machine-learning technology offers boundless possibilities and will be a part of our future, and our children's future, for generations to come. The opportunities that these…
Every half-term we will share a video giving you important information about online safety.
Our Online Safety expectations for KS1 pupils
Keeping me safe at home and at school
We ask a grown up before we go on the internet.

We tell an adult if something makes us feel




worried or sad.

If we get stuck or lost on the internet we




ask for help.

We can write friendly and kind messages to people we know.

We will not bring mobile phones, tablets or computers into school.

We will keep personal information Top Secret. We will not tell anyone our name, our address or our school's name and we will not share photos on the internet.
Our Online Safety expectations for KS2 pupils
For my own personal safety everywhere
I am aware of "stranger danger" when on line and will not meet online friends.

I will tell an adult about anything online which makes me feel uncomfortable.
Staying Safe in School
I will ask permission from a member of staff before using the Internet at school.

I will not try to bypass the system to reach websites the school has blocked.

I understand that the school may check my files and may monitor the web pages I visit.

When in school I will only contact people with my teacher's permission.

I will not access other people's files.

I will not play games on a school computer unless my teacher has given me permission.

I will not install software on school computers.

I will not use the system for gaming, gambling, shopping, or uploading videos or music.

I will be very careful when sharing pictures or videos of myself or my friends.

If I am in school I will always check with a teacher.

I understand that I should not put my 'Personal Information' online. (My full name, birthday, phone number, address, postcode, school etc.)

Responsibility to Others
The messages I send will be kind and
responsible.
I will not upload images or videos of other




people without their permission.

Where work is copyrighted (including music, videos and images) I will not download or share with others.

I understand that the school may take action against me if I am involved in incidents of inappropriate behaviour.

If the activities are illegal this will be reported to the police.
Personal Devices
The school does not allow personal devices to be brought into school.
However, children in Year 4 are allowed to bring a mobile phone into school during the Summer Term if they are allowed to walk to and from school without their parents.
I understand that my mobile phone should be turned off upon entering the school gate.

My mobile phone will be collected by my teacher at the start of the day and returned to me at the end of the day.

I will not turn my phone on until I have left the school premises.

I will take phones or make videos with my mobile phones whilst in school.

I will only give my phone number to friends I trust.
What Parents Need To Know
We all want to keep our children as safe as possible. 
At Langley First School we believe that we can help keep your child safe online by keeping you informed and knowledgeable about the ever-changing online world. 
This section of our website is regularly updated with information guides that are current and topical.
We also use our school Twitter page to keep you updated with information so that you can have important conversations with your child at home.
We will regularly update this section of the website with new online safety leaflets.
We hope that you find them useful and a good starting point for beginning conversations with your children. The National Online Safety Centre also offers a free online safety course for parents and carers. Please get in touch if you wish to have access to this.
What Parents Need to Know Guides
What aspect of online safety would you like to know more about?